20 May 2022
Food & drink brands celebrate Jubilee with limited edition launches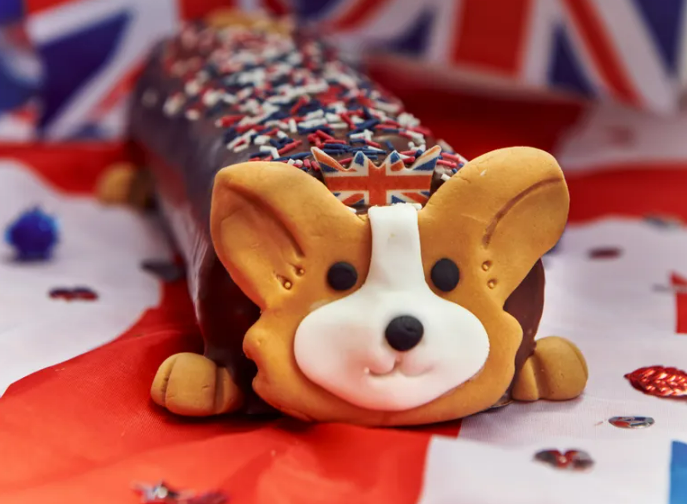 As the Queen approaches her Platinum Jubilee, commemorating 70 years as the UK's head of state, a number of retailers and food & drink brands have leapt at the chance to launch limited edition products to celebrate the big day.
Ian Downes, Director at Start Licensing Ltd, commented on the trend, saying: "The Platinum Jubilee is a national event and one that seems to be set to touch most of the country in some way.
"Food and drink brands have recognised this and have embraced it with a range of very creative brand activations. In a fast-moving market, brands have recognised that they can stand out by showing some individuality and creativity. This also moves them away from price-based promotions and creates new ways to engage with consumers.
"The Platinum Jubilee may well be a model that encourages brands to develop other special and limited editions in the future. One way of doing this is to work with other brands with licensing collaborations embracing elements like taste, flavour and ingredients."
Here are just some of the tongue-in-cheek products that have come to market to celebrate the Queen's big day.
Asda's Jubilee range
Alongside Mini Coronation Chicken Pastry Crowns, Asda is launching an entire range of Jubilee themed products including Coronation Chicken Steaks, Extra Special Limited Edition 6 Coronation Pork Sausages, Coronation Pork Loin Steaks, Crown Gingerbread Biscuits and Jubilee Cupcakes.
Tims Dairy and Wilkin & Sons' Strawberry Royale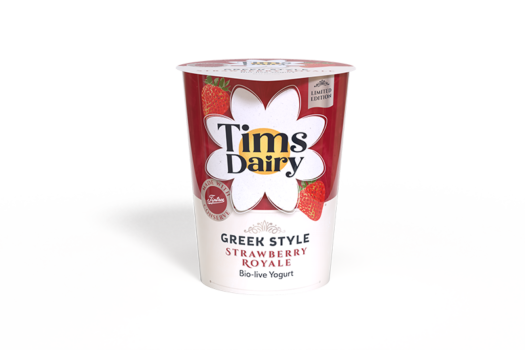 Yoghurt brand Tims Dairy has collaborated with Wilkin & Sons, owner of Tiptree jam to create a new limited-edition Strawberry Royale Greek-style yoghurt.
"This is a special moment for the entire country and commonwealth, and to help us all celebrate in true style this spring and summer we have got together with Tiptree, whose products and business heritage and ethos we have long admired, to create a superb new indulgent Greek style yogurt," Managing Director Chris Timotheou commented. "It has been such a pleasure working with a like-minded food producer with such enthusiasm who shares our values of great taste and quality without compromise."
Morrison's Corgi Cake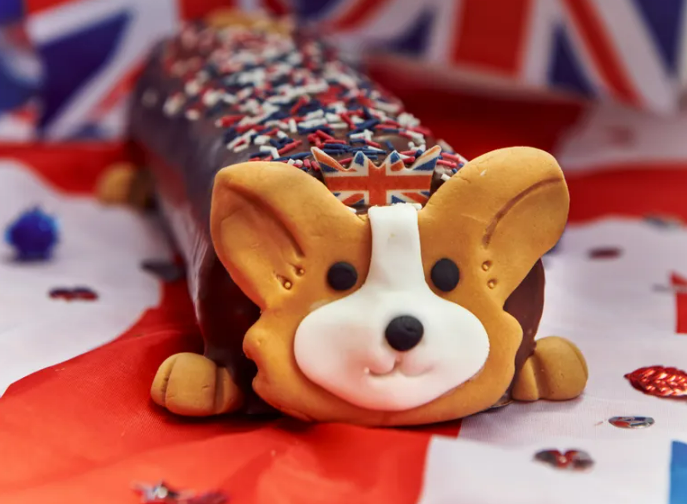 A royal take on the classic "caterpillar celebration cake" format, the chocolate covered corgi cake is a Swiss roll decorated with red, blue and white sprinkles with an edible corgi face and Union Jack crown.
Rachel Fish, Cake Creator at Morrisons, was quoted by Delish as saying: "We've created this special cake to pay tribute to the Queen, as the country celebrates her Platinum Jubilee this summer. We had great fun coming up with names for the cake but think Clarence, as chosen by our customers, is a fitting tribute."
Morrisons also made headlines in late April as the company announced the renaming of the Victoria Sponge to the Elizabeth Sponge, in celebration of the upcoming anniversary.
Heinz's HM Sauce and Salad Queen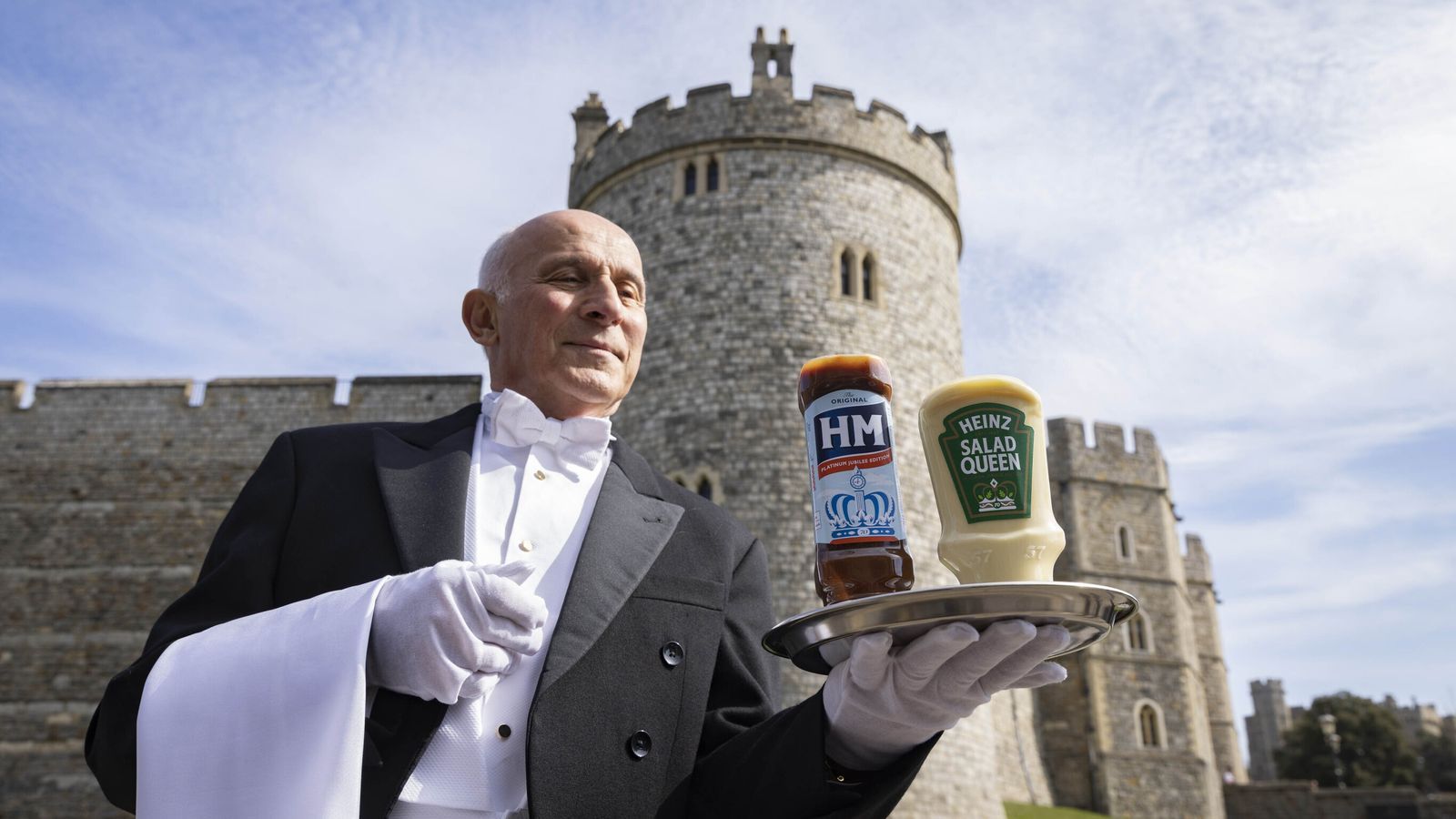 Condiment brand Heinz has released limited edition bottles of HM Sauce (HP Sauce) and Salan Queen (Salad Cream) to mark the Platinum Jubilee. The sauces were unveiled at Windsor Palace and will be available throughout May leading up to the four-day bank holiday in June.
Heinz senior brand manager Anke von Hanstein said: "This is an extraordinary moment for the Queen and the great British public, and we want to celebrate this with two of our most well-loved and historic sauces.
"Releasing limited-edition bottles in time for the Jubilee felt like the perfect fit. We hope our customers enjoy these celebratory designs and that they add a squeeze of fun to the Jubilee celebrations, however one is celebrating."
Marks & Spencer's liquid luxury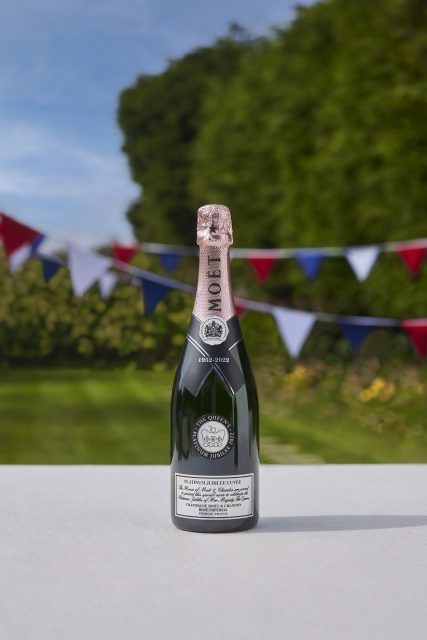 Alongside the recent launch of a Colin the Caterpillar Frappé, NPD pioneers M&S have also announced a limited-edition Shortbread Frappé to celebrate the Platinum Jubilee, inspired by a classic afternoon tea.
The retailer has also announced an exclusive partnership with premium champagne brand Moet & Chandon for the limited edition Rosé Impérial Champagne.
Pierpaolo Petrassi, Head of Drinks at Waitrose was quoted in The Drinks Business, saying: "We're delighted to be offering our customers these two wonderful products to enjoy with friends and family over the Jubilee weekend and the upcoming summer months.
"The Buckingham Palace Gin is delicious when served with lots of ice, tonic water, a slice of lemon and a sprig of your favourite fresh herb, and who can say no to a perfectly chilled glass of Champagne on a summer's day?! Both will make a great addition to any celebrations over the bank holiday."
Cadbury's Limited edition Platinum Jubilee Dairy Milk Bar
Cadbury's have repackaged a classic, with limited edition Platinum Jubilee versions of their Dairy Milk Bar. The company has also launched a competition to win tickets to the Platinum Jubilee Pageant.
The English Whisky Company's English Royal Platinum Jubilee single malt
The English Whisky Company has released a single malt to join its Royal range of whiskies. This range is only bottled to mark births, marriages, coronations and jubilees. Any launch is always rare and sought after.
Interested in creative partnerships and brand expansions? Why not check out this on-demand session from IFE Manufacturing 2022, featuring Ian Downes of Start Licensing and David Taylor and Jonathan Bowden from Brand of Brothers.