14 Mar 2022
Meet the World Food Innovation Awards 2022 finalists at IFE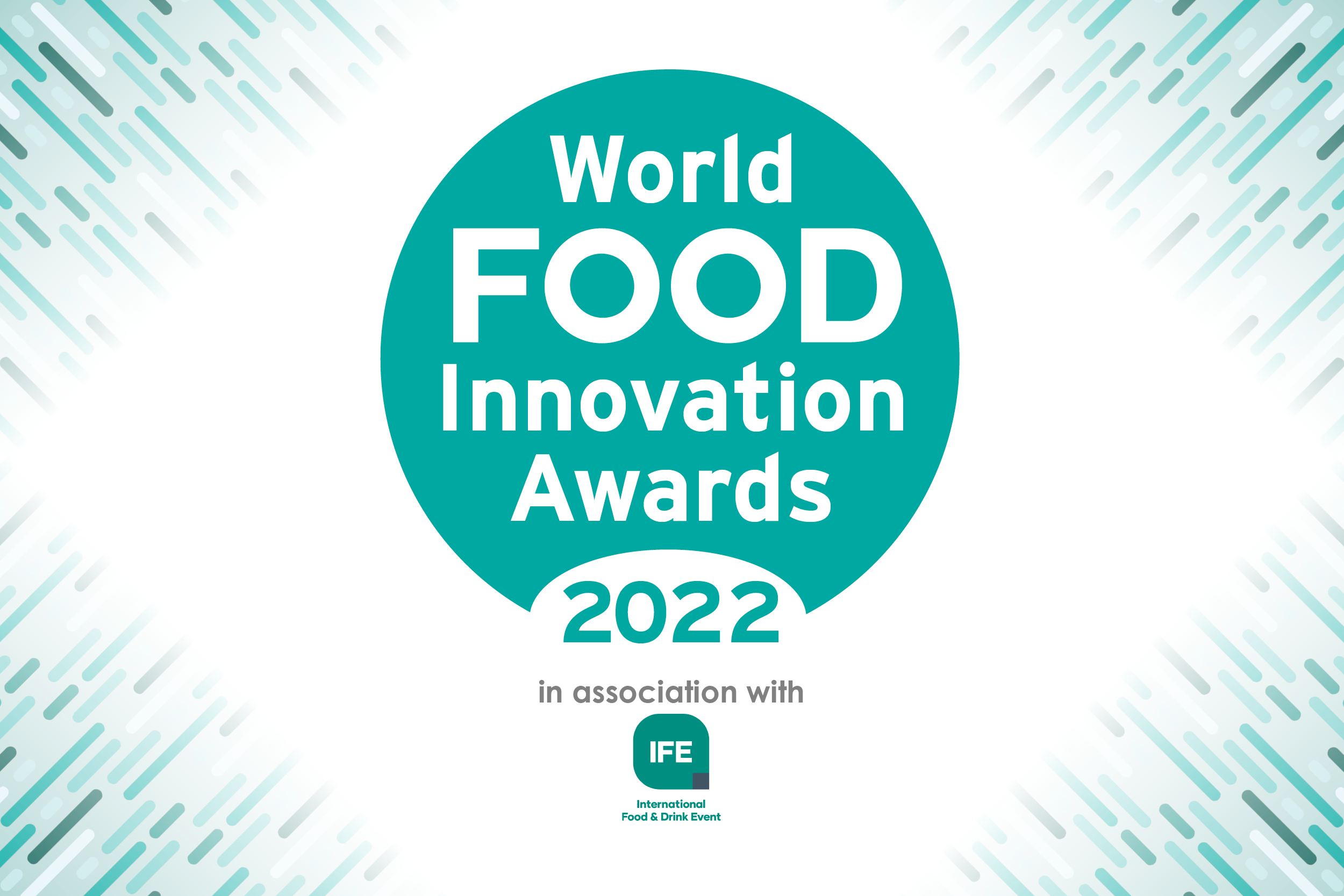 FoodBev Media, organiser of the World Food Innovation Awards, has announced the finalists of the 2022 competition.
Winners in all 25 categories will be chosen during a special awards ceremony hosted in association with IFE, International Food & Drink Event on Monday 21 March, at 3.45pm on the Future Food Stage.
FoodBev's Awards Marketing Executive Sana Gogia said: "We are thrilled to announce this year's finalists. Now in it's eighth year, the competition is even closer as companies explore more daring flavour combinations, push the boundaries of packaging design and create innovative functional products.
"The World Food Innovation Awards represents a fantastic opportunity to share some of the most ambitious developments from the food industry and celebrate companies both small, medium and large. This year's contenders are some of our strongest yet and we can't wait to see who will be crowned the winners on March 21."
IFE Event Director Philippa Christer added: "We're thrilled to once again be partnering with the World Food Innovation Awards and showcasing the finalists on Stand 4261 at this year's edition of the event. IFE has a long history of celebrating truly innovative products and this year's finalists are fantastic examples of the very best UK and international food & drink products."
Shortlist of finalists for each category
Best Artisan Product
Cacao Barry – WholeFruit Chocolate Evocao
Cheebab – Cheebab The Original
Dina Foods – Handcrafted Artisan Baklawa
Simply Ice Cream – Peanut Brittle Ice Cream
Best Brand Marketing
Boxed Water Is Better – Boxed Water™
Oumph! – Best Brand Marketing
THIS™ – THIS™ Changes Everything
Uncle Ernies Rum Punch
Best Brand/Brand Extension
Encona – Hot Sauces
Hunt and Brew – Single Origin Dairy milk through coffee company lens
Kepak – Rustlers Cook in Box
Saintly Beverage Co – Cocktail Inspired Saintly Hard Seltzer
Best Children's Product
Eat the Change – Cosmic Carrot Chews
Little Dish – Fresh Food For Kids
Hyproca Nutrition Co., Ltd. – Aunulife Ready-To-Eat Probiotics (Orange)
Sprout Organic – Plant Based Infant Formula
Best Convenience Innovation
Yili Group – Yili Muselibowl Milk Oats Cup
Liberation Cocktails – Pisco Sour
Rice In Action – Self Heating Rice Meal
BettaF!sh – TU-NAH
Best Convenience Packaging
Alzamora Group – Eco-Pastry Solutions
Kepak – Rustlers Cook In Box
Pure Blue of Norway – Pure Blue
TIPA Corp – Home Compostable Fully Transparent Laminate
Best CSR/Sustainability Initiative
Andre Farm – Crafter's Juniper Cheese
OCEANFRUIT
Little Freddie – Organic Baby Food Climate Footprinting
Talking Rain AQA – Waterboys
The People's Pantry
Best Drink Concept sponsored by Exberry
I am Nutri – MILLET MALT THICK DRINK
Boxed Water Is Better – Boxed Water™
Good Rootz – SAPINCA
Liberation Cocktails – On-Tap
Best Food Concept
ALDI-exclusive Emporium Selection Cheese Fries
All is Good – Healthy, Nutritious Food Processed Using the Mildtech Technology
Fromages Spielhofer – Tête de Moine AOP with Fleurolle
Frostkrone Food – Ready to Eat
Grace Foods – Irie Eats
Best Foodservice Initiative
Float Foods – OnlyEg Patties
Quorn – (ChiQin)
RISE Brewing Co – Original Black Cold Brew Coffee Multi-Serve
Veganz Group – Foodservice
Best Functional Product
Chic-kles Gum – Slim and Fit Probiotic Gum
Float Foods – OnlyEg Yolk
Phytaphix – COVMPAQ
REBBL – Stacked Coffee
The Naked Collective – Mude
Zeno Functional Foods – SOBAR
Best Health or Wellness Drink
I am Nutri – QUINOA MALT THICK DRINK
Kabocha Milk Co – Kabochamilk
Biotiful – Kefir Coconut
Barry Callebaut – Elix
The Naked Collective – Mude
Best Health or Wellness Food
ALDI – exclusive L'oven Fresh Protein Bread
Banza – Banza Supreme Pizza
Float Foods – OnlyEg White
Heura Foods – Heura Burger
Chichio – Chichio Green Peeled Pistachio Butter
Best Healthy Snacking Innovation
ALDI – exclusive Park Street Deli Cauliflower Dips
Borna Foods Ltd – Fibre-Packed Vegan Trail Mixes
Daily Crunch – Sprouted Almonds
Dolfin (UK) Ltd – My Sweet Chickpea
Frostkrone Food Group – Ready to Eat – Beetroot Snacks
Best Indulgence Product
ALDI – exclusive liveGfree Gluten Free Holiday Donuts
Borna Foods – Chocolate Spread
TRIVIUM PACKAGING – Easy drinks
TSC Food Products GmbH – Baileys Dessert
Best Ingredient Innovation
Blue Sky Botanics – Baobab Fruit Purée
Float Foods – OnlyEg Yolk
Perfect Day – Animal-Free Milk Protein
BettaF!sh – TU-NAH
Xampla – Vitamin Microcapsules
Best Low-or-no Product
Aric Air Sparkling Water – Fruit Sparkling Water
Float Foods – OnlyEg Shreds
KINO BIOTECH PTE LTD – KINOHIMITSU ESSENCE OF CHICKEN
The Naked Collective – So.Beer
Best Natural Food or Organic Product
OCEANFRUIT – Sea Salads
Better Nature – Tempeh Mince
Sozye – Noya Sauce
Chichio – Chichio Green Peeled Pistachio Butter
Best New Business
I am Nutri – WELLNESS BEVERAGES
Good Rootz – SAPINCA
Sozyë – Nish Noya Noyster
Xampla
Best Packaging Design
Ardagh Glass Packaging – NaturRein Fruit Jar
Boxed Water Is Better® – Boxed Water™
Elopak – Pure-Pak® eSense Aseptic carton
La Vie – Lardons Vegetaux
PakTech – PakTech handles
Inner Mongolia Yili Industrial Group Co Ltd – Satine organic pure milk biodiversity protection limited edition
Best Plant-based Beverage
Kabocha Milk Co. – Kabochamilk
Biotiful – Plant Based Oat Kefir Mango
Hope and Sesame – Unsweetened Vanilla Chilled Sesamemilk
REBBL – POP
REBBL – Stacked Coffee
Best Plant-based Food Product
Better Nature – Smoky Tempeh Rashers
Beyond Meat – Beyond Burger®
DSM Food & Beverage – Maxavor® Fish YE
Heura Foods – Mediterranean Chunks
La Vie – Vegan Bacon
Les Nouveaux Affineurs – L'Affiné d'Albert
LoveRaw – M:lk Choc Cre&m Wafer
The Plant Based Seafood Co. – Mind Blown Dusted Scallops
THIS™ – THISIsn't Pork Sausages
Best Snacking Innovation
Oumph! – Oumph! Crispy Buffalo Bites
Frostkrone Food Group – Ready to Eat – Curry Mango Snacks
GURME212 – Sun Dried Tomato Marinated Cauliflower Crisps
Mitsuba Seaweed Crisps
Superfoodio Limited – Peanut Butter Buttons
Tarwi Foods – Lummus
Best Special-edition Product
ALDI – exclusive Burman's Dipping Sauces
ALDI – exclusive Emporium Selection Holiday Goat Logs
Brownes Dairy – Seriously Novelty Favoured Milks
Yili Group – Satine Fresh Milk
Best Technology Innovation
Bespoken Spirits – Rye Whiskey
Rice In Action – Rice Encapsulation
TCI Co. Ltd. – SCIENCE OF PROBIOTICS
THIS™ – FAT 2.0™
Xampla – Edible Films