04 Jul 2022
The rise of rapid delivery at the FWD Conference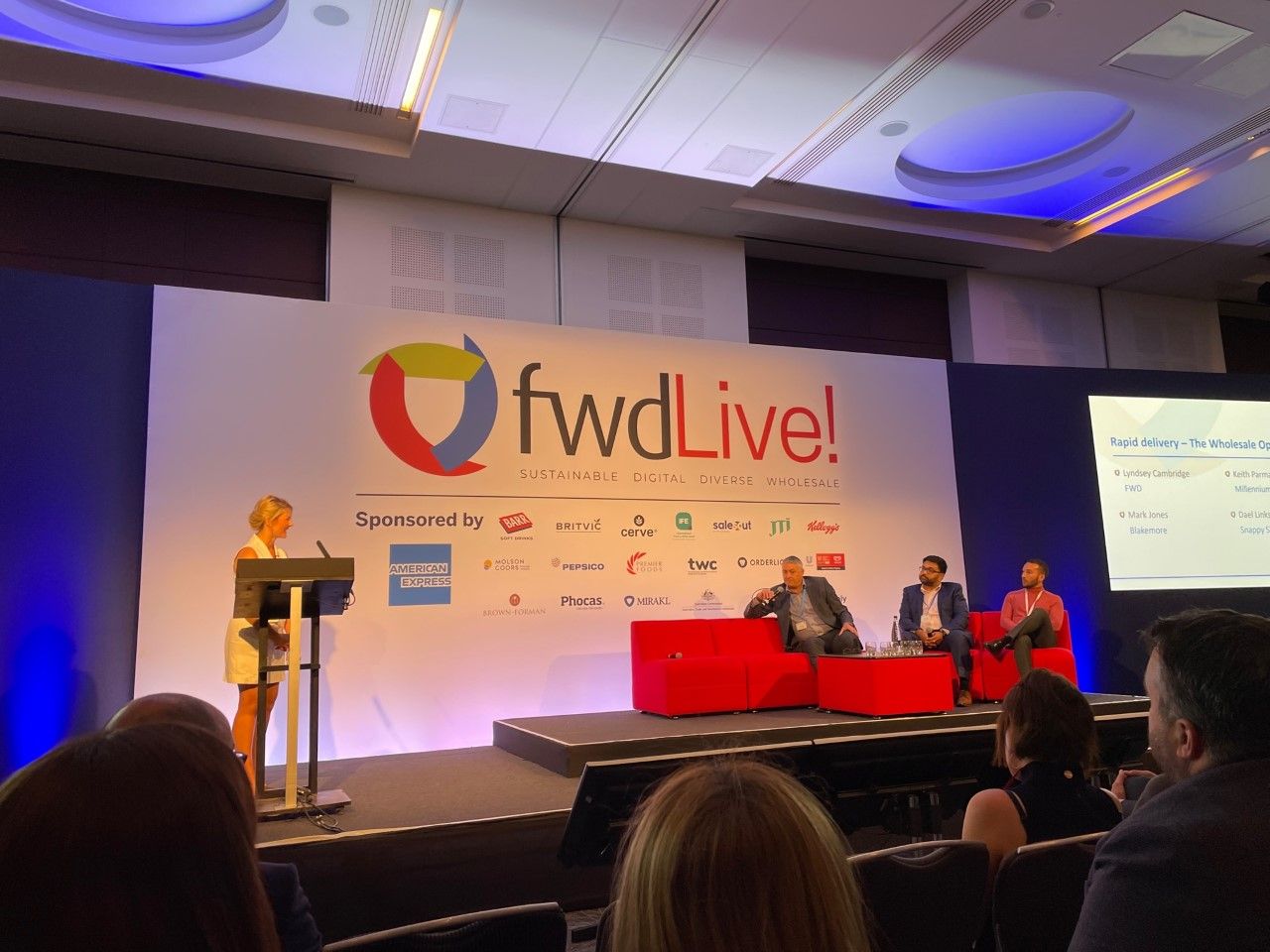 The Federation of Wholesale Distributors (FWD) Conference returned to St George's Park in Burton-on-Trent on Thursday 30 June to reunite the wholesale community for a packed day of learning and networking.
Ahead of the panel on the opportunities presented by rapid delivery, hosted by FWD Head of Engagement Lyndsey Cambridge and featuring Mark Jones, of A.F. Blakemore & Sons, Keith Parmar of Millennium Group and Dael Links of Snappy Shopper, TWC Director of Communications Sarah Coleman presented some top-line information on the trend:
There is a high level of consumer interest in rapid delivery solutions, with around half of consumers finding the concept appealing. Appeal – and usage – is highest in London.

Rapid delivery attracts a younger demographic than convenience stores; as well as appealing to those with children. Basket spends are higher: 60% of users reported spending more than £20, compared to a typical c-store basket of <£10.

However, cost is a major barrier for non-users. And this will only intensify with the cost-of-living crisis. Over half of GB consumers are having to reduce their spending to pay their bills

Rapid delivery remains a city-based model, even in high density areas many operators are struggling to find a path to profitability and consequently we are seeing consolidation amongst operators as well as players exiting markets, scaling back expansion plans and reducing headcount.
The panel kicked off with Mark Jones describing rapid delivery as "a natural evolution for convenience" but added that "the rate of growth is lowering; it's investor-led. They require a clearer line to profitability, while when you're a fast start-up you're resource–forward. But we'd rather be inside the tent looking out and with a future-thinking hat on. I think it will be part of the eventual solution for convenience stores."
Keith Parmar commented that Millennium Group is a route to market for a number of rapid delivery suppliers, saying that "a lot of them are small warehouses and storage facilities. The simple model is to invest in stock and have it ready for large or small orders."
The Snappy Shopper business model specifically connects local convenience stores with consumers and Dael Links pointed out that the platform was "doing record breaking numbers month on month in 2022. This trend continues to skyrocket. We now have several £1m-plus retailers on the platform and in the 12 months to April 2022 the top stores delivered £700,000 additional sales and our data suggests that this keeps on improving."
As pointed out in the intro by TWC's Sarah Coleman, the rapid delivery model also tends to have a higher average order value than high street food & drink retail, which is often attributed to meeting minimum delivery requirements or raised prices. By comparison, Links points out that the average order value on Snappy Shopper is £26, providing significant additional revenue for retailers on the platform.
He added that "the dark stores are fighting for the same customers as convenience stores. The Snappy Shopper model wants to protect the high street. The model we deploy is store-friendly and we don't inflate our prices."
Jones concluded that rapid delivery represented a significant opportunity for wholesalers, adding that "from the wholesale and supply perspective, we can do more of the heavy living when they're keen not to overburden themselves with cost."
Stay up to date with the latest industry news by subscribing to the IFE newsletter.
View the slides from TWC's presentation on rapid delivery here.