26 May 2022
Top food & drink retailers on the industry's turbulent future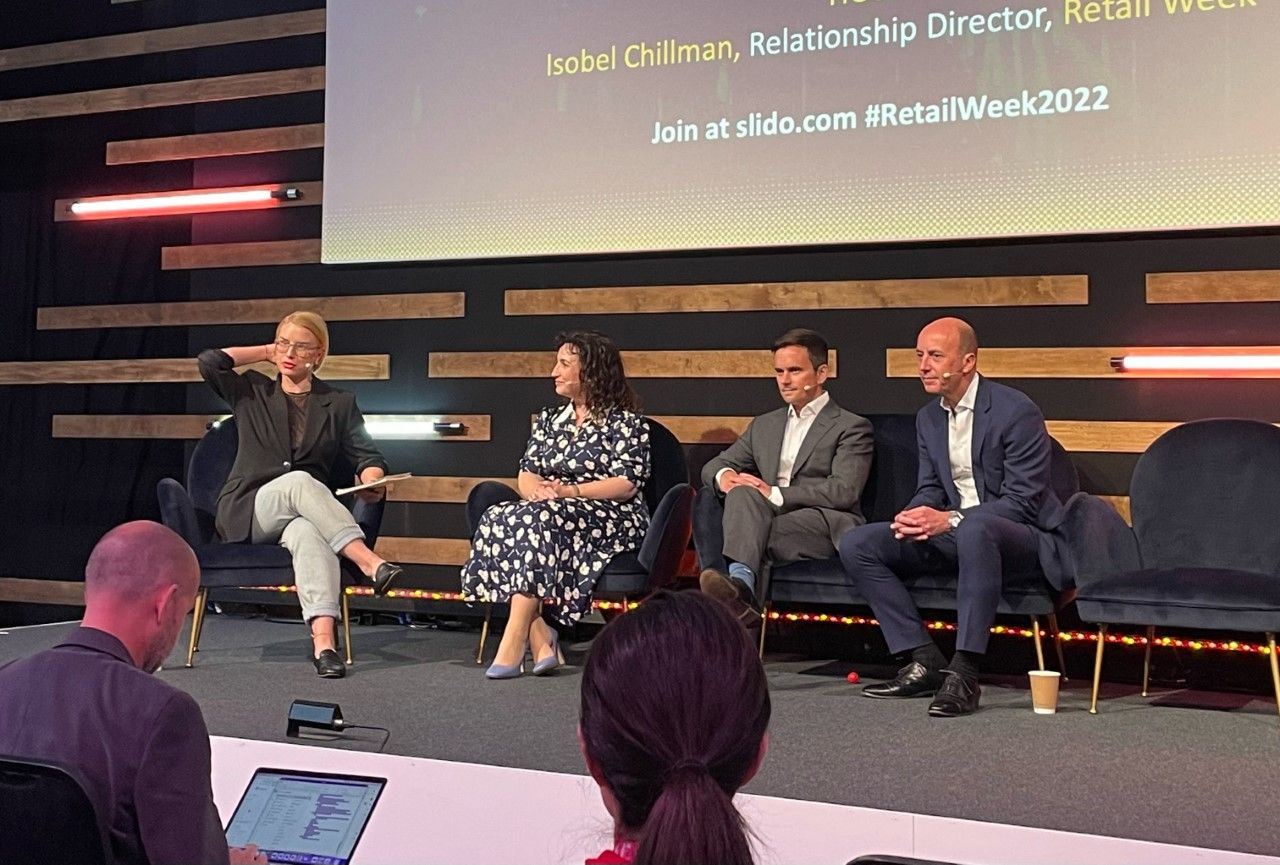 As the 2022 edition of Retail Week Live drew to a close, the final conference session saw an all-star panel of food & drink retailers take to the stage to discuss the future of grocery.
Jo Whitfield, CEO of Co-Op Food, Richard Walker, MD of Iceland, and Ocado Solutions CEO Luke Jensen discussed the impact of factors like the war in Ukraine, the cost-of-living crisis, Brexit and Covid on grocery retail at what feels like a pivotal moment in world history.
The discussion kicked off with the panellists taking stock of the current challenges facing the sector, with Jo commenting that the war in Ukraine has put pressure on grain, which has in turn impacted on animal feed and inevitably the wider meat and dairy industry.
"It's a perfect maelstrom of different pressures, worker shortages and commodity shortages," added Richard. "Flowing through to operational costs. Everything from fuel to electricity. There's no cap on business energy costs unfortunately. Business is under a lot of pressure which is why you're seeing the prices on the shelves creep up."
Luke pointed out the benefits that tech can have on tackling industry challenges and reducing food waste, saying "When you shop online you can see your total so it's easier to budget, and we have record low levels of waste because it's a very controlled supply chain. There are ways that technology can help with efficiency and ultimately reduce the price for the consumer."
Jo added that The Co-Op is very conscious of consumer waste, and that the average family wastes 508 meals a year. The Co-Op has recently launched a not-for-profit called Caboodle, which is helping the business redistribute food waste and connect to communities and community groups.
Price promises
Iceland is a member of Marcus Rashford's Child Food Poverty Taskforce and is working with the Food Foundation and the Government to further support families by raising awareness of the Healthy Start and Best Start Foods schemes in stores.
The retailer has also committed to keep the price of certain frozen products at £1, with Richard adding "We're coming up with a drumbeat of ideas, food hacks and promotions to help anyone who shops with us, because we know they're feeling the pinch."
On inflation, Jo commented that "It's difficult to foresee. The real question is where it will settle, and how much is temporary vs structural. It's about finding ways to manage value. We're trying to put together great value offers and promotions and we've put huge effort into holding certain lines.
"We've got our own Honest Value range which was introduced at the start of Covid and which is 100 basics. Great ethics and values but low prices. It was important not to lose the co-op element; products have to come from a ethical source. What we've tried to do this year is give our members extra deals and value, deal with inflation but also balance prices and let people continue to buy the things they want to buy and enable our customers to have some joy. People still want to celebrate and for us it's about showing up and giving value where we can."
Government intervention
When the topic of government involvement in the industry, views of the panel were mixed. Luke commented that Ocado works with retailers around the globe and comes across a wide variety of attitudes to the food & drink sector.
He added that "for us it's about getting the product from farm or factory to someone's door, and you don't want the government to be too involved in that process."
Jo said she's like to see the government step forward positively and support grocery retailer and food & drink businesses during this challenging period.
"We're all managing our costs tightly and running as seamlessly as we can," she pointed out. ". It's been a perfect storm over the past few years and if the government can take a breath over policy change and give everyone a bit of time to adjust, and not add new changes and additional friction, it would be well received. It would let us focus on what we want to do for our customers and colleagues.
"We've been lucky that we have a different ownership model and we've invested in some major changes but this year we're focussing entirely on the cost-of-living crisis. It's right that we all contribute to society equally and are given incentives to invest. I'd like the government to think about the national food strategy in a different way. The war in Ukraine has reinforced a point around food insecurity and how reliant we are on certain parts of the world. Something this traumatic puts a huge amount of pressure on where we get our food from. I'd love us to be more self-sufficient and for British farmers to be more supported. We'd love to get food security in the UK to a really good place."
The consequences of war
Richard announced in a blog on 28 March that, due to the war in Ukraine, Iceland would have to revert back to using palm oil. In 2018 the supermarket announced that it was removing the controversial ingredient, which has been linked to destruction of the Earth's forests. As part of its stand against the product, it launched a TV advert made with Greenpeace, which was pulled after it was deemed too political.
"It was a difficult decision," Richard explains. "And an unexpected consequence of war. It's part of the interconnected nature of our global food supply chain, I never thought we'd go back into palm oil. We've prioritised other oils where we can but there are some areas where we've had to go back to palm oil. Environmentalism relies on peace."
Community building
Jo commented that: "It's going to be a challenging year for everyone in food retail. Over three quarters of our shops now have an eCommerce solution. We're seeing a demand there that hasn't dwindled post-Covid. The quick commerce growth plan remains achievable, and you can provide really great convenient solutions with great value.
"We want to make the most of this new infrastructure. Community and local has become far more important as people have decided to work from home more. Community stores are becoming a hub and providing services that people might not be able to get locally as banks and post offices close. We want to be at the heart of our communities. It's not going to be easy but there are a lot of opportunities this year even while there are challenges.
"When you're facing tough times, retail is such a dynamic environment; you have to keep innovating and responding to what the customers need, find the opportunities and lean into them."