20 Mar 2022
World Food Innovation Awards 2022 winners revealed!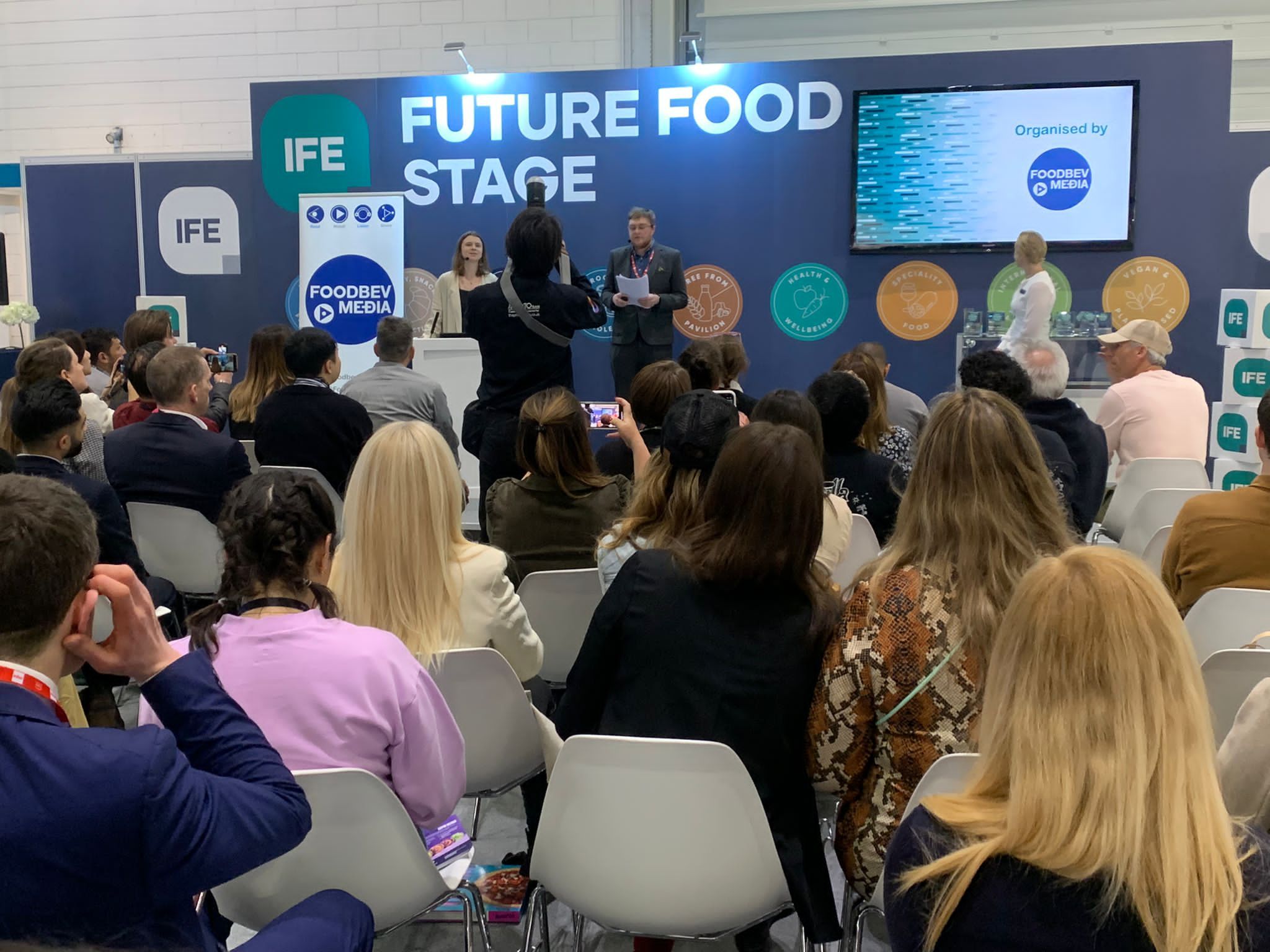 Day One of IFE saw the winners of the World Food Innovation Awards unveiled on the show's Future Food Stage, presented by Jonathan McGowan and Antonia Garrett-Peel from FoodBev Media and IFE Event Director Philippa Christer.
McGowan commented on the high level of entries across the board and congratulated all the winners, plus a number of highly commended entries.
Best Artisan Product
Cacao Barry - WholeFruit Chocolate Evocao
Highly Commended: Cheebab - Cheebab The Original
Best Brand Marketing
Boxed Water Is Better - Boxed Water™
Highly Commended: THIS™ - THIS™ Changes Everything
Best Brand/Brand Extension
Hunt and Brew - Single Origin Dairy milk through coffee company lens
Best Children's Product
Sprout Organic - Plant Based Infant Formula
Best Convenience Innovation
Rice In Action - Self Heating rice meal
Best Convenience Packaging
TIPA Corp - Home Compostable Fully Transparent Laminate
Best CSR/Sustainability Initiative
OCEANFRUIT
Best drink concept, sponsored by EXBERRY
Good Rootz - SAPINCA
Highly Commended: Liberation Cocktails - On-tap
Best food concept
Frostkrone Food - Ready to Eat
Highly Commended: All is Good - Healthy, Nutritious Food processed using the Mildtech Technology
Best Foodservice Initiative
Quorn - (ChiQin)
Highly Commened: Float Foods - OnlyEg Patties
Best Functional Product
Zeno Functional Foods - SOBAR
Best Health or Wellness Drink
Kabocha Milk Co. - Kabochamilk
Best Health or Wellness Food
Float Foods - OnlyEg White
Highly Commended: I am Nutri - QUINOA MALT THICK DRINK
Best Healthy Snacking Innovation
Borna Foods Ltd - Fibre-packed vegan trail mixes
Highly Commended: Daily Crunch - Sprouted Almonds
Best Indulgence Product
TSC Food Products GmbH - Baileys Dessert
Highly Commended: ALDI - exclusive liveGfree Gluten Free Holiday Donuts
Best Ingredient Innovation
Perfect Day - Animal-Free Milk Protein
Best Low-or-no Product
The Naked Collective - So.Beer
Highly Commended: KINO BIOTECH PTE LTD - KINOHIMITSU ESSENCE OF CHICKEN
Best Natural Food or Organic Product
OCEANFRUIT - Sea Salads
Highly Commended: Sozyë - Noya Sauce
Best New Business
Xampla
Best Packaging Design
Boxed Water Is Better® - Boxed Water™
Best Plant-based Beverage
Kabocha Milk Co. - Kabochamilk
Best Plant-based Food Product
The Plant Based Seafood Co. - Mind Blown Dusted Scallops
Best Snacking Innovation
Frostkrone Food Group - Ready to Eat - Curry Mango Snacks
Highly Commended: Superfoodio Limited - Peanut Butter Buttons
Best Special-edition Product
Brownes Dairy - Seriously Novelty Flavoured Milks
Best Technology Innovation
THIS - FAT 2.0™