Fresh Anari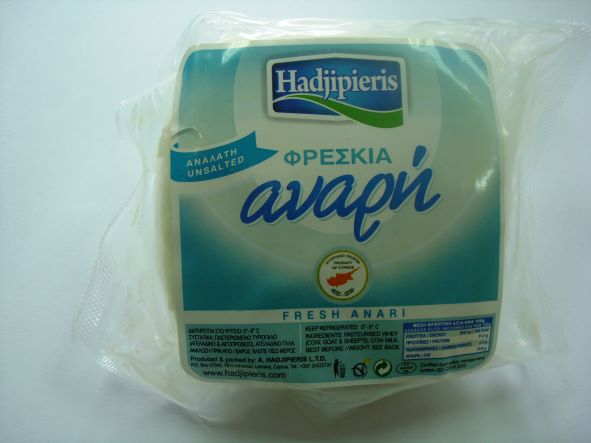 Fresh Anari is a traditional Cypriot cheese made of cheese whey.
It's a white and soft cheese and is similar to the Italian cheese Ricotta and the Greek cheese Anthotyros. Fresh Anari has a delicate, pleasant taste and less fat content compared to other cheeses.
Most commonly, Fresh Anari can be found in the market as unsalted or salted. It has a mild sweet taste and many Cypriots tend to have it for breakfast along with some honey or jam. It can also be served on its own with some fresh tomatoes, green or black olives and some bread or used in sandwiches. It is used as an ingredient for cheese pies and as a filling of the traditional Cypriot dessert "pourekia" and other Cypriot sweet pastries.
Apart from its fresh and soft form, Anari is also available in a dry, hard form. In this case, anari is salted and dried to become a hard cheese with a stronger flavour. It is known as "Dry Anari" and is often used grated on pasta, to thicken sauces, and other classic Cypriot dishes.
Its consisted high quality and excellent taste have made this one of our most popular products. Depending on your preferences you can choose between the unsalted or the salted anari. Just have it with some freshly baked bread and honey or try it with some cinnamon and sugar…