Pasta Toscana organic wholewheat with omega 3 from flax seeds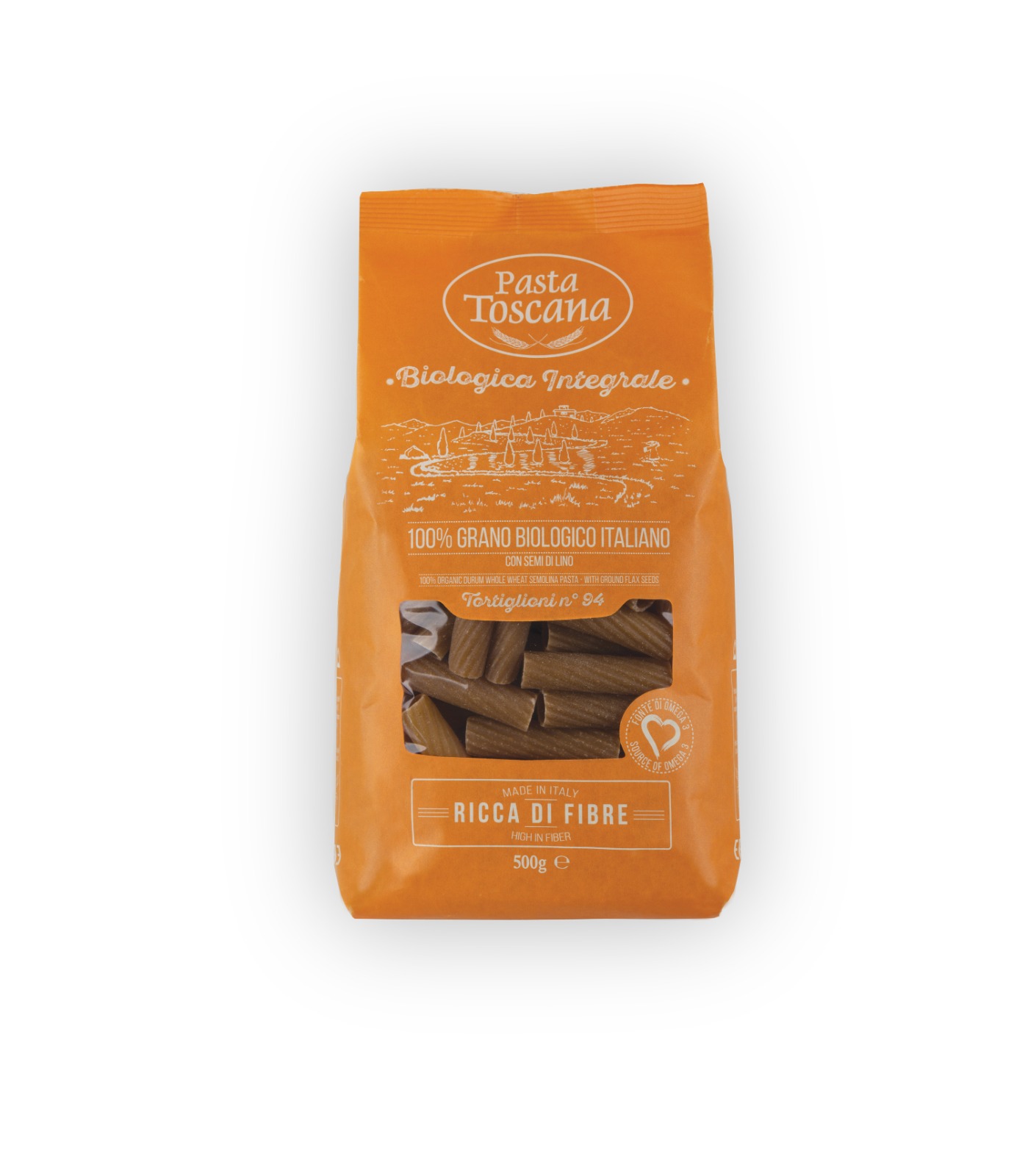 Pasta made entirely from 100% tuscan organic highest quality whole wheat and pure water with Omega 3 coming from flaxseed flour (Ala Omega 3). Bronze drawn and dried at low temperatures to maintain a unique flavor and a rough and porous surface. It contains a high amount of fibre that contributes to a sense of satiety and consequently helps to control body weight. It also contains vitamins and minerals that help us feel well and keep in shape. Omega 3 fatty acids contribute to prevent cardiovascular and metabolic diseases.
Pasta Toscana is produced with wheat coming from the fields of the Tuscan countryside where our factory is situated. From the mill to grind the wheat, to all of our suppliers, every single part contributes to make a high
quality product 100% Made in Tuscany. Traceability of the product is guaranteed from the field to the table.
Find out the origin of the wheat used to produce the pasta contained inside the pack. Our pasta, classic, organic and organic whole wheat with omega 3 is produced using only wheat coming from our region and pure water. The durum wheat we use to produce Pasta Toscana is cultivated within a supply chain composed of Tuscan farmers and processed according to tradition in order to obtain an excellent product with a high nutritional value.
We firmly believe that recycling is fundamental, for the planet and for all of us. On average, Italians buy 50 kg of packaging each year, in total over 3 million tons, of which only slightly more than half is recycled. For this reason,
reduction of the environmental impact of the packaging at Fabianelli Pasta Factory is one of our priorities. This is why Pasta Toscana, always 100% made in Tuscany, has also been 100% environmentally friendly since
the beginning of 2020: our packaging is recyclable as paper. Each pack of the three Pasta Toscana lines - Classic, Organic and Whole Organic - bears the seal 100% Recyclable Paper.
Available shapes: Spaghetti, Fusilli, Tortiglioni, Penne Rigate, Farfalle