Soberts and creams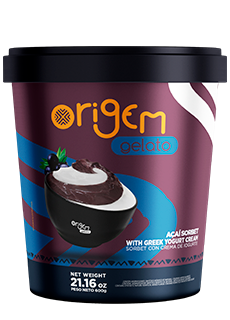 7.49Lbs | 3,4Kg, flavor:
Cupuaçu cream - Origem cupuaçu cream in the right measure for those who own establishments such as açaiterias, ice cream parlors and restaurants or just for those who want to have a reservation at home of this delicious and exotic tropical fruit.
21.60Oz | 600G, flavor:
Cupuaçu cream - Different of everything you've ever tasted in a perfect size to enjoy alone or with the family.
Açaí mix with Cupuaçu cream - The perfect combination of the Origem açaí and cupuaçu cream.
Açaí mix with Penaut cream - The taste of açaí meets the delicious flavor of peanut cream in an incredible explosion of flavors.
Açaí mix with Hazelnaut cream - The strength of açaí and the delicate flavor of hazelnut, in an incredible union.
Açaí mix with Greek Yogurt cream - The sweet açaí with the sourness of the greek yogurt, in a perfect balance.
Açaí mix with Milk cream - The classic combination of açaí with milk cream, in a delicious creamy recipe.
Categories
Cheese & Dairy
Grocery
Snacks & Confectionery